Introducing Shogun Method Black Book Volume 4
GET ANY WOMAN
EMOTIONALLY ADDICTED

TO YOU WITH FIVE GENERATION 2.0 SHOGUN METHOD TACTICS AND SHOGUN SEQUENCES
Volume 4 Is The Next Generation Of Shogun Method Black Books, Containing Handpicked Tactics That We Have Rigorously Tested In The Derek Rake Insider Labs For Maximum Effectiveness
WHAT'S INSIDE SHOGUN METHOD BLACK BOOK VOLUME 4

Misdirection gives you the ability to access her subconscious mind instantly
Misdirection is how you distract a woman's conscious mind so that you can open up her subconscious mind for Shogun Method. Learn the TWO simple step to take so that you can misdirect her conscious mind while you covertly embed your Commands into her subconscious mind. Sneaky but effective!
Tap into the weakness that every woman has and remove her inhibitions towards you
Increase the effectiveness of your Shogun Method routines and Shogun Sequences by distracting her conscious mind and lowering her Bitch Shield
Misdirect her in two simple steps (do this before you deliver any Shogun Sequence and get tremendous results fast)
Pair up Implanted Commands with Misdirection statements for maximum effect
…and more!
Immunize your woman from another man's seduction with the Inoculation tactic
Inoculation techniques will bulletproof your woman from getting seduced by other men. Let's face it: if she's hot, there will be guys out there who are waiting to pounce on her. With Inoculation, you'll put her in COLD MODE whenever she's not with you - so that she resists the charms of other guys who try to hit on her.
Learn what Hypergamy is and why it's the number one challenge that you must tackle in any long-term relationship
Keep a woman faithful by immunizing her from getting seduced by other men
Put your woman in Cold Mode whenever she's not with you (especially when she is in the company of other men who want to hit on her)
If she is working, make her resist her co-worker's advances automatically
Get ready-to-use Inoculation scripts which you can deploy quickly today
Three example scenarios and corresponding routines to use: Analytical Overload, The Slut Sequence and a text variation (used if you can't see her face-to-face)
…and more!
With the Open Loop you can capture and hold her attention for as long as you want
The Open Loop is a classic storytelling device which you can use to capture a woman's attention and make sure that she is captivated by you throughout the conversation. You'll remember that as long as a woman pays attention to you, it's just a matter of time before she falls in love with you. Using the Open Loop technique is how you do it!
How to keep your woman hanging on your every word - so that you can keep piling your Shogun Sequences and Shogun Method routines until she falls for you completely
A simple addition to the Rollercoastering technique (that you have already learned in the core Shogun Method program) that makes your storytelling tremendously effective
Four brand new Open Loop scripts you can use immediately: "My Psychotic Ex", "Old School Mate", "Your Eye Color" and "Crazy Incident Anniversary"
How to follow up on an Open Loop - using covert hypnosis!
What to watch out for when closing an Open Loop - so that the hypnotic Rapport building process is uninterrupted
...and more!
If she ever turns cold, you can turn her hot again using the Reverse Friend Zone
MODULE FOUR: REVERSE FRIEND ZONE
The Reverse Friend Zone is exactly what it says on the can: with this technique, you'll put a woman in the Friend Zone! Most women cannot handle rejection well - and this is the reason why the RFZ (as it's affectionately known) is so darn effective. If a woman goes cold on you, use the RFZ on her and she'll jump back to life - you'll be amazed!
Why and how the RFZ technique can turn a woman who is merely interested in you into a downright stalker, completely obsessed with you
Turn the tables on her and make her desperately try to win you over
How to combine the RFZ technique with standard Fractionation for a "one-two punch" effect
Deadly pitfalls to watch out for (warning: using RFZ is like playing with fire - you WILL get burned if not careful)
The CDE Blueprint to follow to put her in the Friend Zone successfully
The ideal IRAE stage at which the RFZ is most appropriate (deploy it at the wrong time and it WILL backfire on you)
The best verbatim to use to put her in the Friend Zone (hint: use DISQUALIFICATION)
How to use ECHOING statements to enhance the Friend Zone Effect greatly (tremendously important to know!)
The ideal way to pull her out from the Friend Zone and finally seal the deal
...and more!
Hypnotize her covertly every single day by using the Three Connectors in your conversations
MODULE FIVE: THREE CONNECTORS
The Three Connectors explain the inner workings of some of the best known hypnotic language patterns and Shogun Sequences that power up Shogun Method. Pepper these in your everyday conversations and your woman will be more subservient and vulnerable to your charms. This Module also comes with three brand new Shogun Sequences which you can use across all IRAE stages.
What the Three Connectors are, and where they are present in the best Shogun Sequences that you already know
How to use these Three Connectors to make everyday conversations powerful and hypnotic (to your benefit)
Examples of all Three Connectors in action with sample verbatim and scripts
The "…And Then You'll Fall In Love" Shogun Sequence: a barrage of subliminal commands connected by the first Connector
The "Time Is Running Out" Shogun Sequence: a scarcity illusion creator powered by the second Connector
The "Because You Deserve It" Shogun Sequence: a long-term relationship booster built using the third Connector
...and more!
TACTICS INSIDE VOLUME 4 WILL TAKE YOUR SHOGUN METHOD SUPERPOWERS TO THE NEXT LEVEL
Built On The Powerful Shogun Method Knowledge Base

Tactics in Volume 4 expands on the Shogun Method techniques that you already know and love. If you're already familiar with the core Shogun Method program, using these tactics will be second nature to you

Add Five Valuable Tactics Into Your Shogun Method Toolbox

Add "Misdirection", "Inoculation", "Open Loop", "Reverse Friend Zone" and "Three Connectors" into your Shogun Method arsenal. Remember: the more tools you have at your disposal, the more power you will have over women!

Rigorously Tested By The Derek Rake Insider Labs

These tactics are handpicked from thousands of tactics that we test in the Derek Rake Insider Labs, and are proven to be the "cream of the crop" when it comes to effectiveness and ease-of-use

One-On-One Coaching Service Available Upon Request

If you have questions you want to be answered regarding specific tactics inside Volume 4, then make use of our optional coaching service. Need guidance on how to use these techniques? We've got your back
BONUS#1: Get The Brand New
SHOGUN METHOD ANTIBIOTIC NUKE

Program For FREE
The Shogun Method Antibiotic Nuke is the "troubleshooter" which is essential if you're using Shogun Method. If you're not seeing the results that you want with Shogun Method, chances are that you're doing one or more of these five mistakes. The Antibiotic Nuke will show you what these mistakes are, and how to "nuke" them so that you get the results you want from Shogun Method.
In This Program, You Will Learn...
Antibiotic Nuke #1 - Use this when you can't seem to make certain Shogun Method techniques work for you (e.g. Fractionation)
Antibiotic Nuke #2 - Use this if you're looking for the perfect word-for-word script for step-by-step process that will work "all the time"
Antibiotic Nuke #3 - Use this when you find yourself at odds with any of Shogun Method's concepts which seem to contradict with your own beliefs or conventional thinking
Antibiotic Nuke #4 - Use this when you're hesitating to use Emotional Addiction tactics on your target (ABSOLUTELY ESSENTIAL!)
Antibiotic Nuke #5 - Use this when you're looking for the "Magic Pill" Shogun Method technique that will cure your relationship ailment once and for all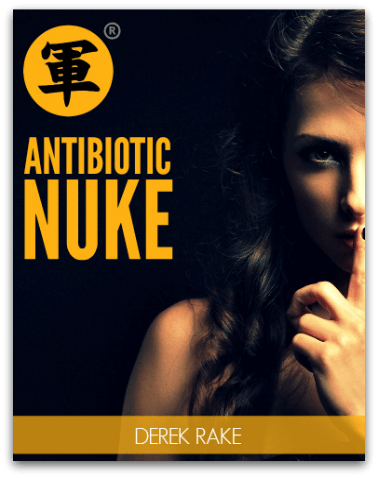 BONUS#2: Get The Brand New
SHOGUN METHOD: INVULNERABILITY PRINCIPLE

Program For FREE
Being vulnerable to your woman means being completely open, honest and trusting of your woman. It means letting your guard down. It means showing her your true colors, not only your strengths but also your weaknesses. THIS IS A HUGE MISTAKE. This new Shogun Method program shows you why.
In This Program, You Will Learn...
The biggest TRIGGER of breakups and relationship failures (and WHY). Make this one mistake and you'll set off an avalanche of problems with your woman
How vulnerability POISONS your relationship with your woman - and how you can "detox" your relationship with the Invulnerability Principle
The LIES that people will tell you - "honesty is the best policy", "you must be true to your woman", "if she loves you, she'll understand" - and how they will screw your relationship up
The SIX traits of the "vulnerable" boyfriend or husband - do you have them? If you do, get rid of them immediately!
Your woman's HIDDEN AGENDA: What she will NEVER tell you about what she wants from you (it's not her fault - she might not realize it)
The difference between "affection" and "attraction" which you MUST know (failed boyfriends and husbands focus on the WRONG one)
Six things you should keep SECRET from her: no matter how much you love and trust her (essential!)
How she will SHIT-TEST you on your Invulnerability - and how to pass them with flying colors (in five simple ways)
And more!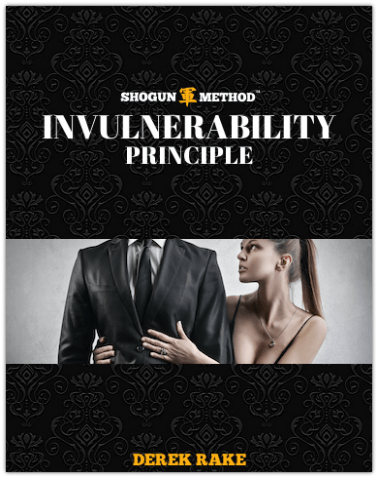 BONUS#3: Get
THE ENSLAVEMENT LETTERS VOLUME ONE

Digital Book FREE
This book contains advanced knowledge about the nature of the feminine's subservience to the masculine–or, what we Shoguns know as Emotional Enslavement. Readers should already be familiar with the foundational Shogun Method Enslavement tactics. This material is not for beginners.
In This Book, You Will Find...
Letter #1: The First Principle of Enslavement. The genesis of Shogun Method! Discover how your woman is overrun by her animalistic instincts, and how you can (and should) control, manipulate and tame it.
Letter #2: Why Enslavement Is Natural (And Masculine). Learn the surprising origins of emotional enslavement and its crucial role in human evolution. Enslavement intertwines with masculinity and this is the proof.
Letter #3: Cult Control: Four Conditions of Emotional Enslavement. With Shogun Method, you're building the cult of one, with your woman as your loyal follower. Discover the striking similarities between the power dynamics of cults and emotional enslavement.
Letter #4: Four Accusations Against Shogun Method (That Are True). Critics accuse Shoguns of committing these four sins–and they are all true! Find out what they are… and see if you agree.
Letter #5: Language: The Operating System of the Mind. Understand how strategic word choice can create intrigue, implant thoughts, induce attachment, and ultimately foster emotional enslavement.
Letter #6: How To Have Unstoppable Access To A Woman's Subconscious Mind. There is a brief time window in the day when a woman's psychological resistance is at its weakest. Find out what it is. Learn how you can exploit to access her subconscious with zero effort.
Letter #7: Animalistic Aggression: The Moral Case For Enslavement. Will emotional enslavement ever be the right thing to do to a woman? The conclusion will startle you.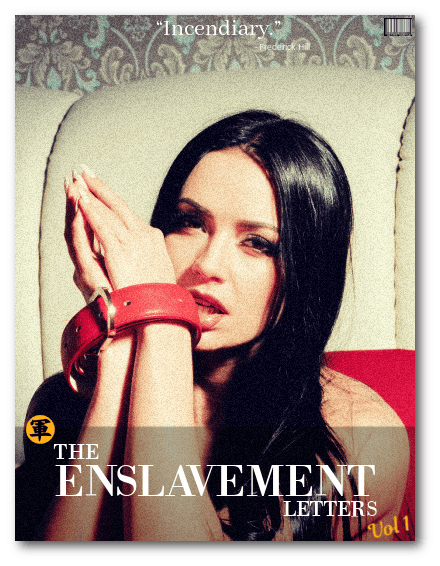 Get
SHOGUN METHOD ANTIBIOTIC NUKE + SHOGUN METHOD: INVULNERABILITY PRINCIPLE + THE ENSLAVEMENT LETTERS VOLUME ONE

Premium Programs For FREE With Your Purchase Of Shogun Method Black Book Volume 4 Today

Your free bonuses will be automatically added to your download page after you have purchased the Shogun Method Black Book Volume 4 program

---

REMEMBER: YOUR PURCHASE IS 100% GUARANTEED
Your purchase of this program is protected by my standard 60-day Money Back Guarantee policy. If you're unhappy with the program for any reason, simply submit a support ticket within 60 days for a courteous refund, absolutely no questions asked.

BUY SHOGUN METHOD BLACK BOOK VOLUME 4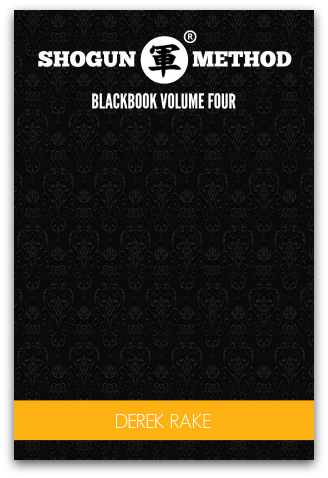 You're Getting Everything
Inside the Shogun Method Black Book Volume 4:
Module 1: Misdirection - Access her subconscious mind instantly
Module 2: Inoculation - "Immunize" your woman from another man's seduction
Module 3: Open Loop - Capture her attention for as long as you want
Module 4: Reverse Friend Zone - If she turns cold, turn her "hot" again!
Module 5: Three Connectors - Hypnotize her covertly, everyday

Exclusive Bonus #1: Shogun Method Antibiotic Nuke premium program (not for sale anywhere else)
Exclusive Bonus #2: Shogun Method: Invulnerability Principle premium program (not for sale anywhere else)
Exclusive Bonus #3: The Enslavement Letters Volume One premium program (not for sale anywhere else)
Derek Rake's Standard 60-Day Money Back Guarantee
This program is sold for $69. Payment is one-time - there are no future charges whatsoever. Access to the program (and the bonus programs) is instant upon successful checkout.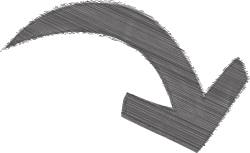 Payment is one-time, and access is automatic upon successful checkout