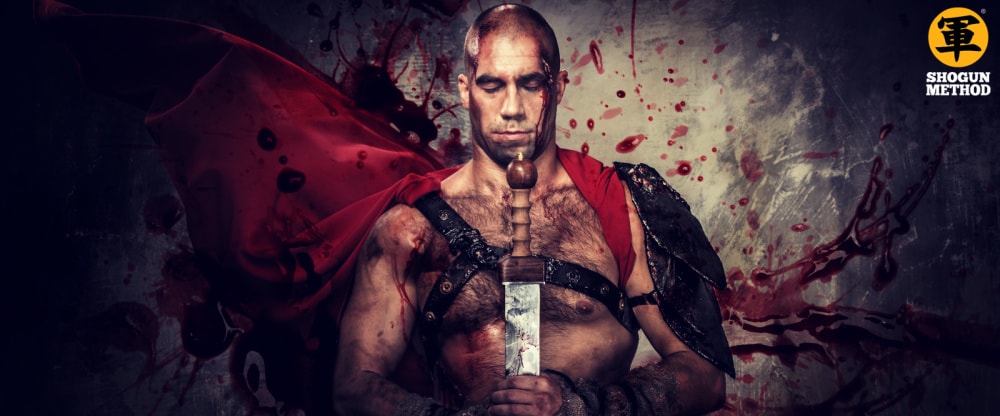 Who is the most attractive man in the world?
Without question–it's the Wounded Warrior.
This male archetype is weird that its appeal to women is almost universal. From my years of coaching Shoguns, this is the one thing that is consistent and predictable–
Women always fall for the Wounded Warrior.
But why?
In Hypnotic Storytelling Vol 2, Shogun Brian Marsh had described the Monomyth. The Hero's Journey is a storytelling device that speaks to our psyche. It works so well because we all identify with the storyline.
We are our own heroes in our lives. We have our struggles, and we face our own challenges in the journey to redemption.
On a deeper level, redemption is what defines us. It gives our lives raison d'être–the reason to exist in the world. Redemption is something to strive for. To some, it's something to die for.
The Journey to Redemption
Now, here's the interesting thing about redemption…
How we redeem ourselves depends on gender.
Redemption gives us our roles in life. To a man, it's the role of a hunter. To a woman, it's the nurturer.
And it all harks back to our cavemen days. The man hunts wild animals and fights other rival tribesmen. And when he gets injured, his woman nurtures him back to health.
That was the life of humans for hundreds of thousands of years. And for that reason, our DNA is hard-coded with this rule–
Men fight. Women heal.
In modern life, the lines are blurred and the roles reversed. That's why the modern society is fucked but that's another story.
Now, here's the thing…
We may live in modern times but we still think with the caveman's brain. Same goes with your woman. She can never fight her natural instincts.
This is why women desire the Wounded Warrior. It's an opportunity for them to play the role endowed on them by mother nature–the nurturer.
The Attractive, Vulnerable Man
Most guys want to appear perfect in the eyes of their women. They think that to attract women, they have to be flawless.
Nope.
This may sound crazy to you, or it might go against everything you believed about women, but it's true–
What makes a man attractive to a woman are his flaws.
A woman doesn't want a flawless man. Because in a flawless man's life, she has no role. He doesn't need her.
In a flawed man's life, however, a woman's role is crucial. She fills the void, heals his wounds, nurses his scars. She helps him get back on his feet…
Men fight, women heal, remember? When a woman nurtures a man, she is living out her life purpose, her raison d'être…
…and because of this, women can't help but to love the Wounded Warrior.
The Balance
Remember this because it's important–
You should show your flaws, but it doesn't mean you have to be a total loser.
The Wounded Warrior is still a Warrior. Strength and masculinity should be your default. You are the hero of the story, so behave like one…
…and when it's opportune, be vulnerable.
Finding the balance is key. The perfect man is a turnoff, as unattractive as the total loser. You never want to appear flawless, and yet you don't want to be a weakling, either.
Here's what's ideal–
You want to appear perfect to the world, and yet you're somewhat vulnerable to your woman in private. That way, she experiences your masculinity and yet gets to nurture you.
When done right, vulnerability is sexy.
Got that?
To recap–
A woman wants a man she can nurture.
Show her your flaws, so she gets to nurture you.
Balance your flaws with your strengths.
Simple, yes?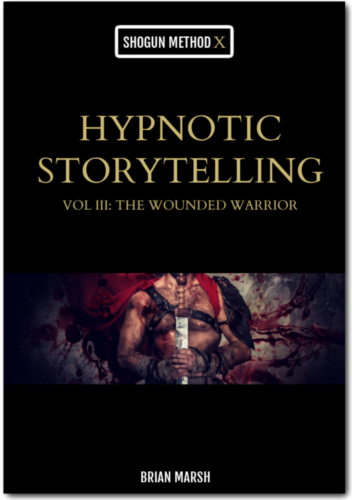 Here's what's slightly, tricky, however…
Finding the balance between your flaws vs strengths is a hard thing.
It's something like Fractionation. You have to give the equal amount of joy and sorrow to your woman… or you might screw up. Looking for the sweet spot is key here.
For guidance, look into the Hypnotic Storytelling Vol 3 program. It's advanced level storytelling focused on one thing–the Wounded Warrior archetype.
We'll dive deep into the ten characteristics of the Wounded Warrior, so you can play one with precision. You'll also discover how to find the elusive flaw/strength balance for best results.
From now until February 17th, Hypnotic Storytelling Vol 3 is free with Shogun Method X. This comes on top of volumes 1 and 2 that you're already getting as part of the package. For more details, click here.